About me
Hi!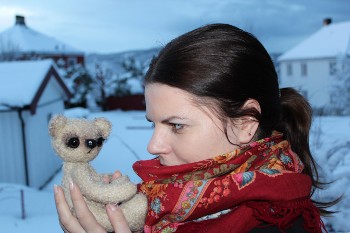 You have now arrived at my teddy studio Snaustrinda Bamsemakeri.
I'm glad to have new visitors. Specially if my guests are creative, open for something new and want to have new friends. Am I speaking about you? If so, sit down, have a cup of tea and feel as home.
My name is Oxana. I was born and grew up in Volgograd in Russia, but moved to Noway in December 2005. "Since that time I've enjoyed life in my little Trondheim. The name Snaustrinda is directly linked to this city as well: it is an old unofficial name of the area in Trondheim I live and where i create my teddies.
I have a lot of different interestes. In my project Snaustrinda I will introduce you for my world of teddies – a world of joy, childhood memories and adventure. I am happy to share this world with you, because by creating beauty, by watching beauty - you'll become beautiful and harmonical yourself!
Everything i show here in Snaustrinda Bamsemakeri is created by me. It is my fantasy and 100% handcraft you will see here. If you want to know more about me and my other interests, you can visit my blog.
Welcome to Snaustrinda Bamsemakeri!
Be my friend, I'm always happy to see you!