Linker og utstillinger
Her finner du linker til andre bamsemakere, utstillinger og annen relevant informasjon.


Jenny loves benny – A beary little world of happiness and perfect bliss.
Peng Peng bears – Puppy love.
Anna Koetse – Bears and stuff
Marijke van Ooijen – Bears

From Danish bearmaker's studio



Stine-teddies by Stine Birkeland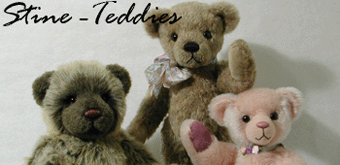 The rabbit maker Shelly Allison



Handmade Collectible Teddy Bears by Anastasia Kuptsova


Utstillinger

International Teddy Meeting in Münster





Hvis du vil ha din link på denne siden - ta kontakt!