Links and exhibitions
Here you'll find links to other tedyy makers, exhibitions and other relevant information.


Jenny loves benny – A beary little world of happiness and perfect bliss.
Peng Peng bears – Puppy love.
Anna Koetse – Bears and stuff
Marijke van Ooijen – Bears

From Danish bearmaker's studio



Stine-teddies by Stine Birkeland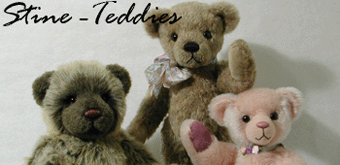 The rabbit maker Shelly Allison



Handmade Collectible Teddy Bears by Anastasia Kuptsova


Exhibitions

International Teddy Meeting in Münster





Contact me if you want your link on this page!